About Brew Express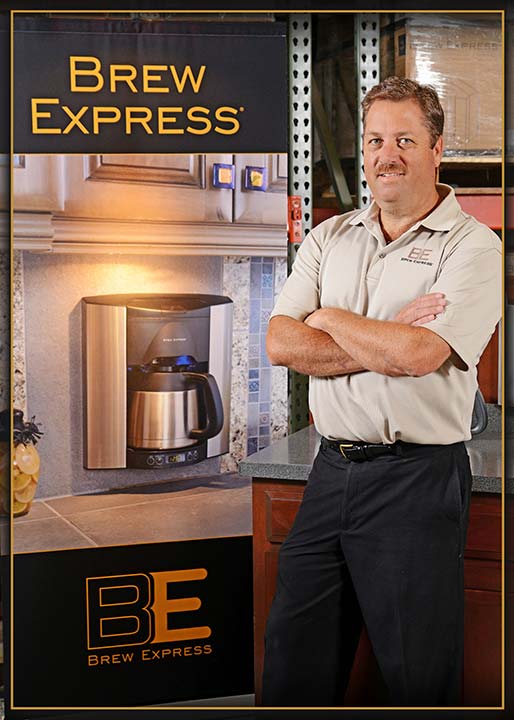 Hi. I'm Bill Spencer, Inventor, and CEO of Brew Express, Inc.
My journey to build a better coffee maker started in 1999. Like most people that enjoy their coffee, I found myself extremely frustrated with the current coffee maker designs. At that time most coffee makers were designed to perform one task – making a full pot of brown stuff called coffee. It requires filling with water, and occupies counter-space. Many times I would spill water or even have a bad coffee-making experience. The standard coffee maker not only is messy and causes water spills, but it doesn't typically last long. I hated starting my day with cleaning-up water spills or the coffee maker making a mess or plainly breaking down.
When I came up with this idea, I was a custom home builder. I built one-of-a-kind custom homes, and constantly would create solutions for problems with any home. I felt that inventions like the ice maker where you no longer have to fill the ice trays should have paved the path for the self-filling coffee maker. I also knew that the current coffee makers were junk, cheaply made, they take up counter space with other appliances, and there was room for improvement. I noticed that the only self-filling coffee makers were the larger commercial size units for restaurants. I wondered why no one had developed a better coffee maker?
I visited with an old family friend, Lance, who had invented of a few products. He understood the patent process, and I wanted to know if a better coffee maker could be protected with patents and brought to the market. Lance gave me some thoughts to consider, and he wanted to work with me to develop an innovative brewing machine. Unfortunately, at the age of 55, Lance died suddenly within a few weeks of our initial discussion. I was left on my own to decide to move ahead or to move away from this idea. I hired a patent attorney, and found that no other coffee maker similar to my idea had been patented or developed. I had also used my savings to apply for patents and develop the first proto-type. This was the easy part of the journey!
My next move was to find a company to either buy, license, and, or produce the product. It proved to be difficult, as many of the major appliance companies would reply, indicating that they have smart engineers and could make our product themselves without my idea. After several rejection letters, my patent attorney introduced me to a local group in my area. They reviewed my patents and the proto type, feeling that it was a great and novel idea for development. It took over a year to establish a working contract. Now I had to decide whether to leave my current position as a sales engineer with an international company, or risk developing my dream product. I firmly believe this product should be in every home, hotel, office, yacht, or rv. What I didn't plan for were a few obstacles such as my partners limited approach to marketing, manufacturing issues, distribution complications, and also an economy that had turned upside down.
For ten years I had been on the entrepreneurial roller coaster, and having persevered through many hardships and setbacks. The company launched the first Brew Express built-in coffee maker at the pivotal point in a bonfire size economy in 2005. This was our first attempt to market the concept of a built-in-the-wall coffee maker.
I had received several strong patents, and I tried to build our product here in the United States. Unfortunately, manufacturing proved to be too expensive and not competitive with the market place. However the design, patents, and development of the models were done in the US. Also, our company provides about 15% of the parts made in the US to ensure strong reliability and safety. Other parts are sourced in countries like Japan, Germany, Great Britain, with final assembly in China.
I am proud to say that Brew Express has won several product awards over the years from the coffee, kitchen, and builder industry shows. Winning these awards helped gain attention with media and being shown on HGTV. The Brew Express has been installed in high-end recreational vehicles, yachts, small offices, hotels, and homes. The first concept product was a 12 cup built-in model, and has expanded to 10-cup, 4-cup, and single-cup models offered in a variety of finishes. Additionally, Brew Express expanded by offering a counter-top 10-cup model, and making it easier for consumers to enjoy our product without installing it in the wall.
The market place is large for coffee makers, as there are millions of coffee consumers. Brew Express continues to weather the turbulent economy, but unfortunately the ability to reach many of the consumers is difficult. Marketing costs to reach the available consumers is limited by the amount of marketing funds(capital) available. Brew Express continues to grow sales through a variety of retail outlets. My hope is to grow and become a household name someday. I believe customer service is an important aspect, and I wish to provide the highest level of service. I recognize our products are built well and tested to last for years of use. I also believe warranty is just a baseline, and therefore Brew Express will typically provide service well beyond our stated policy. I truly want customers to enjoy their Brew Express. Thank you for your time, and I hope you enjoy our products.
Sincerely
Bill Spencer
Inventor